Employee Spotlight: Shaolin Dean
By Shaolin Dean
Jun 13, 2022
What's your role at Aclaimant?

I'm a Sales Development Representative, which means I'm probably the first person a prospective client speaks to at the company. I come from a hospitality background, so I like to think of myself as the host or concierge for Chez Aclaimant. Setting expectations and creating the ambiance for the rest of the sales team to do their work.
What do you do beyond work?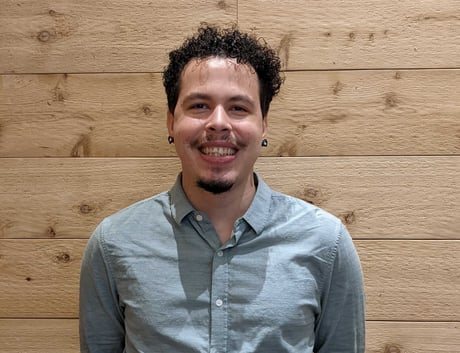 I graduated from college with a degree in dance, so I try to move as often as I can. I really enjoy aerial silks,biking around the city, and frequent happy hours around town. I also spend a lot of time reading. I usually read fiction in the morning, and at night I try to settle down with something more philosophical, like The Analects of Confucius that I'm reading right now.
What's it like to work on your team?

Working on my team is great. Metrics for success are super clear, and there's a lot of support between everyone. We hit and exceed our goals regularly, so it's pretty easy to just relax, exchange notes and then get back to the hustle during our meetings.

What about your work inspires you?

Problem-solving. Kind of no matter where you go, what job you're doing, you're always trying to solve a problem for someone. We solve huge problems for a lot of businesses, and staying focused on the goal of making things easier for people makes the work fly by.

Do you have any favorite company traditions or things you enjoy about the culture?

I've only been here since February, so I don't know if anything is a tradition necessarily, but the positivity from everyone that I work with is absolutely infectious and I feel a lot of like-minded people who are here to really make a difference whether externally with our clients, or internally, with mental health activities from our ERG, social engagements, or true open door policy with everyone top to bottom.

How is Aclaimant's culture different from previous companies you've worked for?

Culture of care. I got sick a few weeks ago and the CEO bought me soup and had it sent to my house. Also incredibly transparent. We've made quite a few internal shifts since my onboarding and my leadership has always been proactive about setting 1:1 time with me, letting me know what the process is going to be like and letting me field any questions I have at the time. I feel included in the decision making process when it affects my team and that my ideas are heard, even if I'm the newest member to the team.

How do you encourage and support remote culture?
Coffee Roulette! Maybe my favorite monthly activity where we meet a randomized coworker for a half hour chat! Last month my coffee date and I were both in Chicago so we went to grab lunch together which was super fun. I love remote work and wouldn't trade it for the world, but I also love trying to get some of the local Chicago people together at least once a month for happy hour, and I think we're starting to plan summer activities like movies at the park as well.
How do you know when you've found a company that's a good fit for the Aclaimant product?

Everyone's a good fit! Just kidding. The most important part is the number of claims a prospective client is dealing with, and what kind of system they are using. If they are already using a software solution, that is great because they already see the value in seeing automation in their risk management practices and we can dig a little deeper to see if they have access to the analytics and data necessary to be proactive in handling risk and safety in a modern world. A lot of people I talk to though are still using excel sheets and paper forms which to me feels like a no-brainer in making a transition to a modernized solution.

How do you celebrate the small wins with the sales team?
Emoji, my friend. Drop your win in the slack channel, and watch the emojis fly. Party poppers, headbanging dog, rainbow dancing Gandalf. Don't forget the gifs either. The dumber, the better.
What advice would you give someone looking for a sales role?
Stay focused on problem-solving. This is a skill that can help you anywhere. As you're interviewing for places, you're telling the company that you have the solution to their problem. People don't know you yet, and we're all a little selfish, so they wanna know what they can get from you. Build your value prop, and interview them as well. Not everyone is your ideal customer. It's only when both of you are aligned on values that you can build out your multi-year contracts.
Any parting words for an inspiring Aclaimer?
You gotta get your hands dirty. We're building the playbook day-by-day, but you gotta be willing to stay flexible and take chances where you can see them. There's a lot of growth potential here, I think the product we serve is truly first class and it's up to us as the sales team to let people know how great it is.
Want to become an Aclaimer?
Join the Aclaimant team by exploring our careers page.