Aclaimant Introduces its COVID-19 Response Module
By Bill Skowronnek
May 13, 2020
Since Day 1, each of us at Aclaimant has made it our mission to create a culture of transparency and trust with all of our stakeholders. We have consistently reached out to our customers and business partners for feedback on how we can continuously improve and deliver on our commitment to help organizations identify and protect what is important. Nothing could be more important than doing everything possible to ensure a safe and secure work environment. Today, that means creating an environment where every worker can feel confident that their employer is actively protecting their health and safety. This feeling needs to be protected, and safely extends to every customer, contractor, and third party who enters every business.
The world of COVID-19 is real, and it's our duty to use this experience to identify and elevate the opportunity to execute a risk management and workplace safety tool that leverages the power of technology. We take great pride in being the insight driven workflow solution for risk management and safety, and we are compelled to do even more for the community.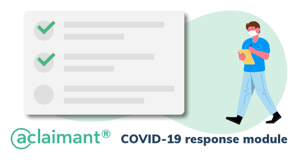 Beginning May 14, we're excited to announce that we are offering a COVID-19 response module as part of our platform. This module is designed to enable both new and existing customers to manage the risks associated with COVID-19 in their workplace. Aclaimant intends to provide this offering for free through March 31, 2021, to any organization that requests it.
What's included in this free offering?
A templated incident report to document symptomatic employees at the workplace, including identifying required follow-up actions
Contact tracing to track individuals who may have interacted with sick employees
Two templated safety checklists, including:

A site inspection based on best practices in prevention
An observational behavior form to encourage safe employee actions

An easy-to-understand, simple analytics dashboard
Access to add notes and file
Unlimited users
Help center access and limited chat support
Why are we doing this?
We feel that we have a system that is uniquely built to mobilize people and resources in a streamlined and digitized way. Our hope is that we are offering a genuine and relevant response to today's rapidly changing environment. We want to help all organizations see risk more clearly and do something about it.
If you want to learn more, please sign up for your free trial of the Aclaimant COVID-19 response module by following this link.
Existing customers can ask their account representative for more information on getting access to the Aclaimant COVID-19 response module.