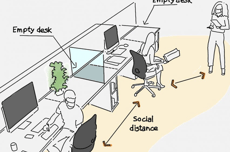 Employers and employees alike are concerned about the future of the traditional workplace and the ramifications for their specific situation. One of the most crucial elements regarding the changes to the workplace after COVID-19 involves how the traditional office space itself will function.

Jed Levenstein of Wurkwel discusses the COVID-19 client experience, addresses the concerns expressed from businesses considering workplace re-entry, and shares some insightful best practices to minimize risk and promote safety and social responsibility.
To view the recorded version of the webinar, complete the form and click VIEW NOW.