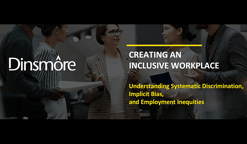 Understanding the importance of diversity and avoiding implicit bias in the workplace can create a climate of openness, awareness, and accountability.

James Reid of Dinsmore & Shohl shares expectations of policies and how to counteract systemic racism regarding employment decisions, along with strategies and action plans for preventing unlawful employment inequities promoting employee engagement, diversity, and organizational success.
To view the recorded version of the webinar and download the presentation, complete the form and click VIEW NOW.