ProCore - Aclaimant Partnership Overview
The ProCore Integration with Aclaimant allows for information from ProCore's Construction Operating System to seamlessly flow into the Aclaimant system.
Take risk management to the next level by connecting ProCore's Construction Operating System with the Aclaimant Resolution Performance System, meaning less double entry and better information population and accuracy when using the Aclaimant system!
---
ProCore's Integration with Aclaimant allows for relevant personnel, company and project information to seamlessly map into any Aclaimant incident and claims file. Report, document, manage, and analyze like the best once your Resolution Performance System is connected with your Construction Operating System.
KEY FEATURES
Easily connect your ProCore account to Aclaimant utilizing SSO
Select users from pre-populated drop downs in the event of an incident or claim
Seamlessly synch information from ProCore to Aclaimant to complete internal, external, regulatory or compliance forms to ensure accurate and prompt incident and claim reporting, from any connected device.
RESOURCES
SCREENSHOTS
INTEGRATED USER SEARCH




SIMPLE TO CONFIGURE INTEGRATION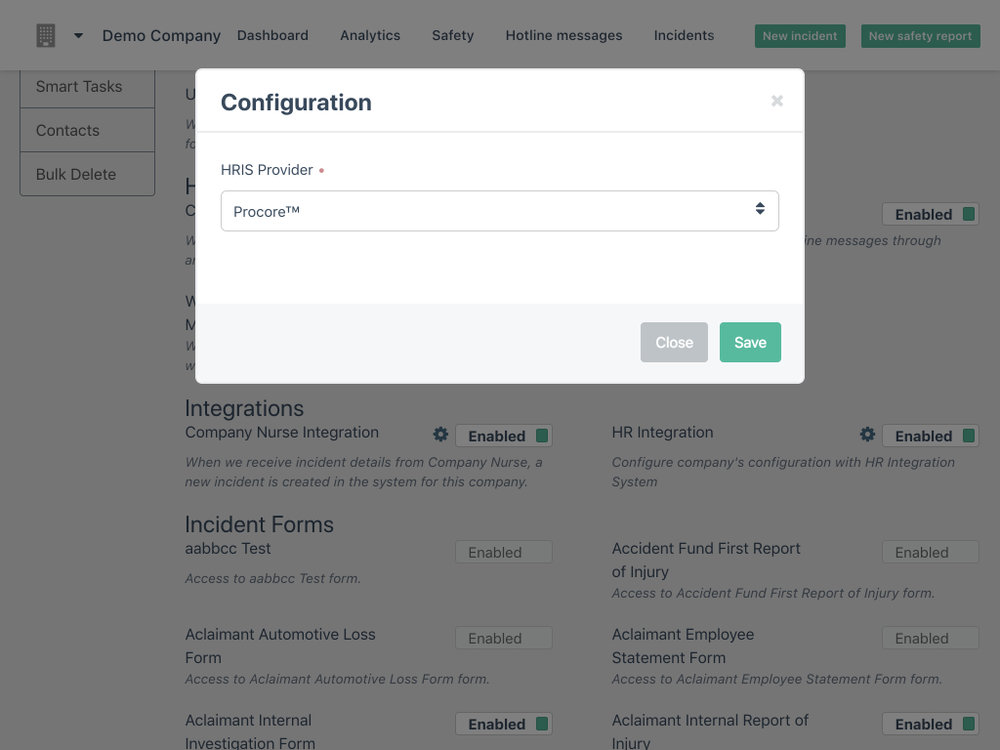 ---
ABOUT OUR PARTNER - PROCORE
Procore Technologies, Inc., is a leading provider of cloud-based applications for construction. Procore connects people, applications, and devices through a unified platform to help construction professionals manage risk and build quality projects—safely, on time, and within budget. Procore has a diversified business model with products for Construction Project Management, Construction Financials, Quality & Safety, and Field Productivity. Headquartered in Carpinteria, California, with offices around the globe, Procore has more than 2.5 million users managing billions of dollars in annual construction volume. Learn more about ProCore.