Bullhorn - Aclaimant Partnership Overview
The Bullhorn Integration with Aclaimant allows for information from Bullhorn's applicant tracking system (ATS) to seamlessly flow into the Aclaimant system.
Take risk management to the next level by connecting Bullhorn's ATS with the Aclaimant Risk Management Platform, meaning less double entry and better information accuracy when using the Aclaimant RMIS system.
---
Bullhorn's integration with Aclaimant allows for relevant personnel and company information to seamlessly map into any Aclaimant safety, incident, or claims file. Report, document, manage, and analyze with ease by connecting your RMIS to the Bullhorn ATS.
KEY FEATURES
Eliminate manual re-entry and quickly populate incident and safety forms with employee data synched from the Bullhorn system
Gain real-time visibility on claim status with easy-to-use analytics dashboards

Streamline claim processes with automated task management and simplified data-entry

Reduce delays that lead to higher losses and improve your bottom line
BULLHORN MARKETPLACE RESOURCES
SCREENSHOTS
STREAMLINED FORM ENTRY




REAL-TIME CLAIMS VISIBILITY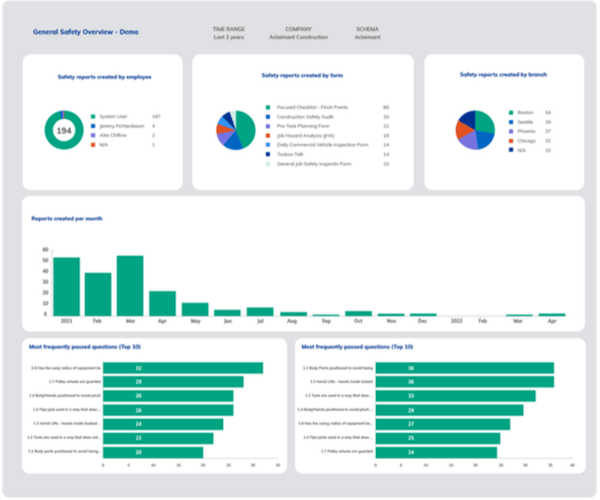 ---
ABOUT OUR PARTNER - BULLHORN
Bullhorn® creates software and services that improve the way employees and employers come together. For over ten years our innovations have powered the recruiting and staffing operations of fast-growing start-ups up through the world's largest employment brands. Headquartered in Boston, with offices in London and Sydney, Bullhorn's recruiting CRM and social recruiting products serve over 5,000 clients and 80,000 users in over 90 countries. Privately owned, Bullhorn is principally backed by Highland Capital Partners and General Catalyst Partners. Learn more about Bullhorn.