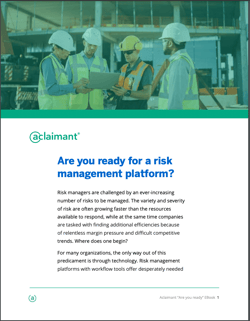 Risk managers are challenged by an ever-increasing number of risks to be managed.
The variety and severity of risk are often growing faster than the resources available to respond, while at the same time companies are tasked with finding additional efficiencies because of relentless margin pressure and difficult competitive trends.
Where does one begin?
For many organizations, the only way out of this predicament is through technology.
We've compiled best practices in an easy to follow eBook to help you assess your company's readiness, leveraging our own experience and in house experts!
Check our FREE eBook - Are You Ready for an Incident Management System by completing the form and click SUBMIT.