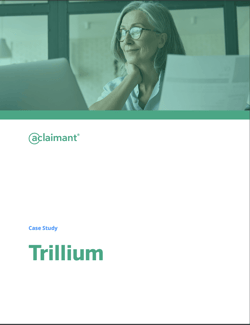 Trillium Staffing is a national temporary staffing firm founded in 1984 that has steadily grown to over $300m in revenue.
As late as 2017, Trillium's risk management processes were largely manual and increasingly strained by the company's continued growth and expansion to over 90 branch offices.
At the time, incidents were reported through phone calls or emails. Paper based forms, a company portal, and Excel were used to document and track critical information related to accidents and claims, which resulted in a clunky process for communicating internally and reporting claims to Trillium's insurance carrier.
Incident management processes relied solely on spreadsheets to report and manage injuries and accidents across its multiple businesses.
Trillium needed a centralized solution to manage, report, and communicate on all accidents and injuries, while automating its submission processes to its insurance carriers to reduce the number of steps in reporting a claim.
To learn how Aclaimant helped Trillium Staffing implement a completely digitized incident and claims management solution, complete the form and click SUBMIT.