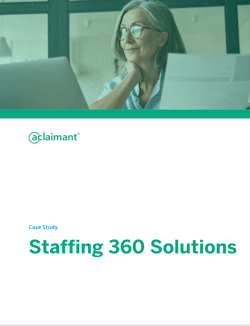 Staffing 360 Solutions is an international staffing firm founded in 2009 that has grown to $300m in revenue by executing a global buy-and-build strategy.
In 2021, Staffing 360 Solutions recognized the need for a solution to manage incidents and claims more efficiently. Between relying on manual data transfer processes and having key incident data scattered across a decentralized system, they struggled to evaluate their risk environment on a large scale.
This made it difficult to evaluate priorities across operational and leadership teams, preventing the company from being able to proactively pinpoint and act on cost drivers
Staffing 360 Solutions realized it needed to centralize and streamline incident information and safety observations into a digitized platform to make it easier to monitor their risk as a whole and to communicate across the organization.
To learn how Aclaimant helped Staffing 360 Solutions centralize their incident and claims management processes, cut down on administrative waste, and realize better financial outcomes, complete the form and click SUBMIT.