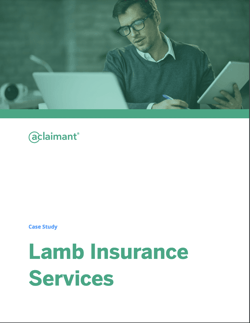 National Broker Lamb Insurance Services Headquartered in NY, specializes in serving non-profit and human service clients nationally, with concentration in NY, NJ, and PA.
Lamb Insurance Services needed a comprehensive claims management system so it could gain efficiencies as it scales 30% annually, while also offering competitive solutions to its growing client base.
The system Lamb used internally at the time was not built to be a robust claims management system, so it needed to integrate a system dedicated to handling that function.
Many internal resources were spent on manual claims reporting, which meant less bandwidth to be strategic and build relationships with clients and carriers.
To learn how Aclaimant helped Lamb Insurance Services implement a completely digitized claims management solution, complete the form and click SUBMIT.